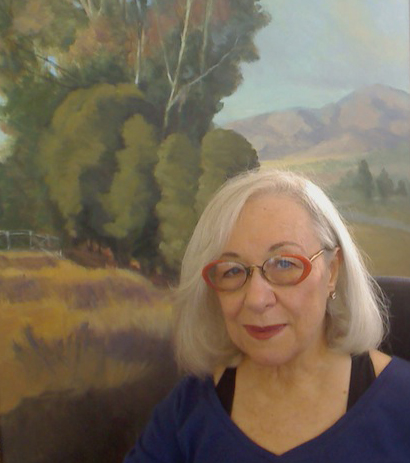 Artist Statement
Portraits fascinated me from the time I could pick up a pencil. I also enjoy landscape and still life and it can be exciting to incorporate one or both into a portrait I am painting. A figure or portrait in landscape has always attracted me because of the beautiful lighting opportunities that exist in nature. And yet, there is also something to be said for the portrait painted within a simple environment that creates an air of mystery. The figure ground is a limited palette with only air and dimension, and the focus is on the face which tells it all.
A series I am working on currently is of creative people I have met at various times in my life. The challenge for me in each of these portraits is to successfully convey the character, personality and creative style of the sitter. My intention is for the final piece to be more about them and their artistic process than it is about me as the artist.
---
Bio
There's one thing that Kathryn Donatelli isn't lacking in, and that's imagination. In 1947 Kathryn was born into a very artistic family and has been drawing and painting portraiture since she was 12 years old, producing more than 300 portraits in her life so far. For her higher education she received a scholarship to study industrial art from the DuCret School of Art in New Jersey. In her early career she quickly worked her way up to creative director for retail publications. Kathryn's aptitude for color and design kept her gainfully employed in the publishing business but she never lost sight of her desire to be a fine artist. In 1986 Kathryn relocated to Los Angeles from New Jersey. In just a few short years after moving to the west coast Kathryn left the publishing business and set up her own fine art company. Her portraits have been exhibited in juried shows from New York City to Los Angeles including two national juried shows. She has contributed her original paintings, hand painted ceiling murals, wall murals and borders to Showcase Houses in Pasadena and Hancock Park. She designed, painted and installed over a dozen Private, Corporate and Public murals and has illustrated 3 children's books. Kathryn is a member of the California Art Club and the California Art League.
Selected Portrait Clients
Jo Marie Payton of the TV Series "Family Matters"
Dick O'Neill, noted actor of the TV series "Cagney and Lacy"
Jo Ann and Glynn Turman, actor
Joseph Caligiuri, inventor of the gyroscope and retiring CEO of The Litton Corporation
William Bailey, retiring Chief of the Sheriff's Department
David and Elaine Marmel producers of the Mrs. America Pageant
Benefits
The Thurgood Marshall Scholarship Fund
City of Hope
American Heart Association
California African-American Museum of Art
Stop Cancer, the annual Tom Bosley Celebrity Golf and Tennis Championship
Notable Murals
2014, The Misfit Organic Restaurant in Santa Monica, CA. The subject of the mural is inspired by the American Impressionist Illustrators of the 1930's.
1991, The Los Angeles Sheriff's Department in the Lynwood County Jail. The site of the mural is inside of one of the modules that housed Veterans of the United States Armed Forces. A one thousand square foot mural depicting scenes such as the raising of the flag at Iwo Jima, the Vietnam Memorial, Desert Storm, and fireman raising the flag at the site of the World Trade Center, among others, was designed by Kathryn and painted under her direction by 13 inmates. Kathryn received a certificate in a special event from the Sheriff's Department recognizing her attention to detail and inspiring and uplifting incarcerated Veterans.
1997, The Metropolitan Water District's "The Story of Water" which was displayed around the outside of the current location for two years while the new headquarters building was being constructed. Ms. Donatelli worked with 25 senior art students from the Woodrow Wilson High School. The mural was 285 feet long and took 5 months to complete and was featured on national TV and published in the Los Angeles TImes.
Education
Certificate of Industrial Art, DuCret School of Art, Plainfield, NJ
Los Angeles City College, Illustration and Watercolor 1, 2 and 3,
Workshop, The 7 Color Contrasts of Johannes Itten, Beverly Cassell.
Workshop, Nicolaides The Science of Drawing, Beverly Cassell.
Workshop, Master Portrait Painting, David Leffel.
Private Study, Still Life Painting, Stacy Kamin.
Memberships
The California Art Club, Associate Artist
The California Art League, Exhibiting Member
LACMA Sales and Rental Gallery, 1994-1999
L.A. Art Association, 1989-1993
Awards
2017 Honorable Mention, California Art League, "Gold Medal Exhibition"
2016 First Place, California Art League, "Art in a Free Society" juried by Jim Morphesis, sponsored by the ACLU.
2016 Judges Award, San Fernando Valley Arts and Cultural Center, "Creative Aging" juried by Margaret Danielak
2015 Best in Show, California Art League, "My Favorite Subject"
2015 First Place, California Art League, "Fire and Ice"
National Shows
2016 Tag Gallery, Bergamot Station, Santa Monica, "California Open" juried by Kent Twitchell
1984 Amos Eno Gallery, Soho, New York, "Small Works" juried by Jack Beal